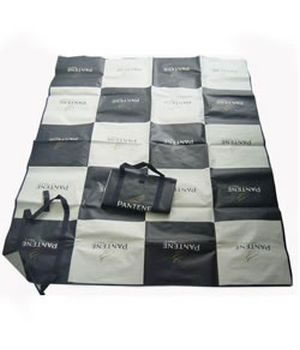 PP Beach Mat
A mat is a piece of fabric or flat material which is commonly placed on a flat surface for various purposes. Beach mat and camping mat are commonly-used mat products. These mats are lightweight, foldable, and can be used in many applications. For example, when we go traveling, we bring camping mat to be placed on the ground, so we can take a rest or have a picnic. It can be used as ground cloth during car repairing or used as promotional items. The wide applications of PP beach mat and camping mat have made them become necessaries for outdoor activities.
Advantages:
Our PP beach mat is made from 100% recycled polypropylene and other discarded plastic articles made of polypropylene. Thus, it is eco-friendly, healthy and sustainable.
Features:
1. The rugs are soft yet durable, can be washed and stored easily. Some users also refer to these rugs as a plastic mat fit to be used for many indoor and outdoor uses.
2. Beach mat is great as indoor, outdoor rugs, outdoor mats, picnic mats, camping mats, and recycled rugs.
We are an experienced PP woven sacks and woven sacks manufacturer in China. We have received the ISO9001:2008 certificate due to our consistent focus on product quality. Our beach mats and camping mats are mainly made of polypropylene, and have the features of soft and smooth surface, clear printed patterns, good water resistance, and ease of cleaning. In addition, our mats are sunlight-proof, recyclable and environment friendly. They are available in various colors and sizes, and we can customize them according to customers' specifications and patterns.
In addition to PP beach mat and camping mat, we also provide PP woven sacks and PP woven fabrics to customers. If you would like more information, please contact us immediately. We are ready to assist you with your needs.