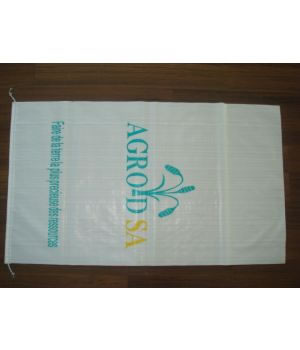 Corn PP Woven Sack
Haicheng Sitong Magnesium-Plastic Products Co., Ltd. is one of the largest PP woven sack or PP woven sack suppliers in China. As for agricultural applications, PP woven sacks are widely used as packages for grains. PP woven sack is primarily constructed from polypropylene plastic resin, and formed through the process of extrusion, stretching and weaving. Plastic woven corn sacks have the advantages of light weight, high strength, moisture resistance, wear & tear resistance, acid resistance, ease of packing and stacking. They are the perfect product for packing corn and many other agricultural products.
Advantages:
1. Light weight: Plastic woven corn sacks weigh less than traditional paper sacks, freight costs-reducing
2. Space-saving: Corn PP woven sack takes up small space and will fit more unfilled sacks on a truck, which increases storage space in warehouse
3. High Strength: Corn PP woven sacks are strong, puncture & tear resistant. They are able to re able to withstand rough handling during transportation
4. Our plastic woven corn sacks are moisture resistant
5. High gloss and matte finishes available
6. Resistant to oil and grease
7. Our PP woven sacks are with UV protection
8. In-house woven polypropylene fabric plant
9. Offering printing service
Quality:
We are committed to producing high quality PP woven sacks and PP woven fabrics. All our PP woven sacks are certified by the ISO9001:2008 quality system. We have a specialized quality control department conducting strict quality inspections during plastic woven corn sacks process. Thus, the quality of our products is 100% guaranteed. We ensure our customers that they are buying a satisfactory product.
Packing: