FIBC (Flexible Intermediate Bulk Container) Fabric and Sacks
Bulk sacks or flexible intermediate bulk containers (FIBCs), also commonly known as big sacks/ton sacks, are mostly used for the packaging in the market. FIBC big sacks are used as an economical and efficient way for the storage of various types of loose, powdered and granulated materials. We are able to provide our clients with top quality, very affordable price bulk sacks (FIBC big bag) and semi-bulk sacks, available in a wide assortment of types and sorts. These ton sacks are with broad applications scope in the chemical, food, mining, and food industries and etc.
Description:
We are an ISO9001:2008 certified PP bulk sacks manufacturer in China and our product range includes FIBC big sacks, jumbo sacks and container sacks. We can offer customers with various kinds of PP ton sacks or container sacks, with capacities ranging from 500KG, 1000KG, to 1500-3000KG. We allow our customers choose for their unique capacities. Our company is experienced in producing and supplying PP bulk sacks, and we know how to make a reliable product and how to fulfill our client's requirements worldwide. Our PP ton sacks are mainly made of polypropylene material.
Bulk Sack Packaging Advantages:
1. Convenient: Fast loading and unloading speed of bulk cargos by means of mechanized equipment.
2. Safe Transport of Goods: Food products will be protected against any foreign substance ingress into the ton bag. As for chemical substances, they will be protected against any dangerous chemical material leakage.
3. Economic Benefits: Saving transport costs and storage space (FIBC big bag can be stacked in several layers).
4. Environmental-friendly: Our PP bulk sacks are reusable and fully recyclable.
5. Quality: Your ton sacks are thoroughly checked for cuts or tears, damage to filling and discharge areas.
PP bulk sacks offered by us come in varied types and sizes, and they are always made as per customers individual requirements. In the ton bag (FIBC big bag) design and production we first will consider the purpose for which the containers are used (type of goods to be packed), procedures and conditions of loading, unloading, packing, transport, storage and of goods.
Raw Material:
Bulk sacks are made of polypropylene fabrics with different basis weights and strength parameters:
1. Coated-laminated with polyethylene, which protects the product against moisture and dust ingress from outside.
2. Uncoated-with breathing properties.
Ton Sacks:
Lifting loops:
PP bulk sacks (FIBC big sacks) are manufactured with one, two and four lifting loops.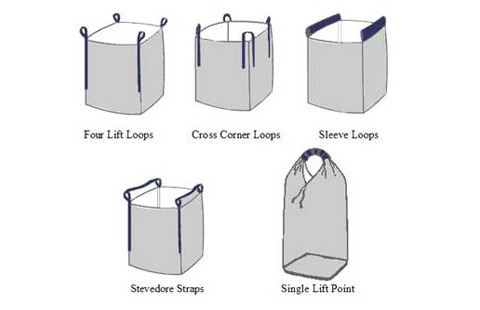 Top Constructions:
Bulk sacks are used to pack a wide range of goods. To ensure maximum efficiency of bag emptying, we have employed various solutions for the bag bottom design: filling spout, open top, filling spout with top flap, duffle top/top skirt and conical top.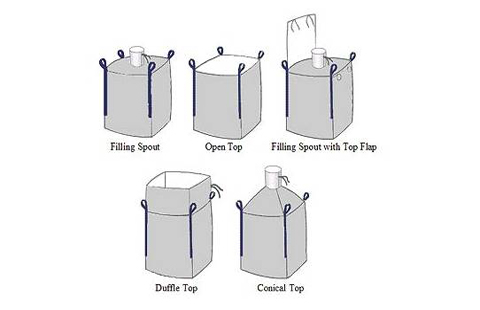 Bottom Constructions:
We would be pleased to arrange a meeting with you to check if the bulk sacks that you need can be manufactured. We look forward to your inquiry.